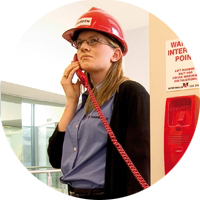 CartGIS provides a range of highly practical Emergency Evacuation PLanning services to compliance driven organisations and larger critical incident response environments. Our solutions drive continual performance in Evacuation Management to ensure the highest level protection for organisations, people, property and communities. CartGIS provides easy-to-use Emergency Planning and Response Programs designed to assist building owners, managers and employers fulfil their legal and compliance obligations and provide a safe environment for employees and building occupants.
CartGIS provides practical and compliant support in the following areas:
Program Reviews
Emergency Response Plans
Establishment of emergency control organisations (warden teams)
Emergency evacuation diagrams and building signage
Chief Warden, Warden and Communications training
Emergency Planning Committee and occupant awareness training
Evacuation and lockdown drills
CartGIS has extensive training expertise and a long history in corporate and emergency service environments. We maintain a highly skilled training team with the ability to deliver face-to-face and online e-Learning training courses throughout Australia.